ABCO Commercial Lighting, a new division of ABCO Solar,  would like to introduce our All-in-One LED Solar Powered Street Lights. We have four models to choose from and will work with your to find the best light to match your needs. With up to 3 nights of lighting time (after being fully charged) these LED Solar Street Lights will help you save on your electricity bill.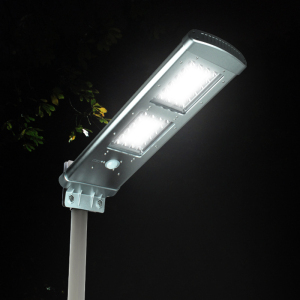 The all aluminum case with durable streamline design are engineered to withstand our extreme environmental conditions of Arizona. These multi-functional LED Solar Street Lights have a wide  range of applications including but not limited to Parking Lots, Street, Sidewalks, Pathways or Security perimeters.
All our LED Solar Street Lights have a self contained battery that is not tied to the power grid. This means these solar lights will provide independence from your utility because the sun will charge the battery which then in turn provide an ample supply of power to keep your solar lights illuminated. Therefor your net operating costs for your LED Solar Street Lights will always be zero.
We are licensed with the Arizona Registrar of Contractors (#258378) and have a experienced crew that can install your order of LED Solar Street Lights. Please contact our sales team for a free estimate.
Features:
Qualifies for 30% Federal Tax Credit

All Aluminum case with durable streamline design
Multi-functional with a wide range of applications
Provides low voltage safety for all users
Lower maintenance with a 50,000 hour life
Can be located anywhere (no wires to string or trenching required)
Dark Sky Compliant
Lower cost to install than regular pole lighting
Various pole heights
Wind load tested
Fully adjustable Tilt, Azimuth and Luminaire Arm