COMMERCIAL SOLAR
A Photovoltaic SOLAR SYSTEM
For Your Business
Now, with significantly lowered prices and new technologies that have increased efficiency, solar power systems have become a smart investment for many businesses and pays generous dividends. A photovoltaic solar system will, in most cases, generate all the electricity your business needs.  That could mean very low –– or even NO –– energy bills! And your photovoltaic equipment payments may be expensed. With the skyrocketing costs of electricity and natural gas, your savings could very well become even greater in the future.
What's Included When You Purchase An ABCO Solar System:
Personalized System Design
Equipment and Connectivity
Drawings and Permitting with all Local Jurisdictions
Professional Installation
System Testing
Any Necessary Local Government and Utility Company Inspections
FEDERAL TAX CREDIT
26% of net system cost with no maximum limit
ARIZONA STATE TAX CREDIT
10% of net system cost up to $25,000
FIXED ENERGY COSTS
Hedge against rising electricity costs
VIRTUALLY MAINTENANCE FREE
LONG LIFE OF SYSTEM
25 to 40 years--with a 25-year warranty
GREAT RETURN ON INVESTMENT
INCREASED PROPERTY VALUE
With no increase in property tax and no solar equipment sales tax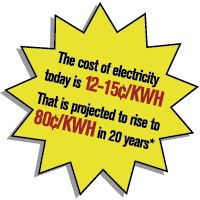 FAVORABLE $0 DOWN EQUIPMENT LEASES AVAILABLE
Use IRS Code section 179 to write off up to $500,000 in the first year.

Depreciation available to qualifying businesses.
*US Dept of Energy
**No depreciation is considered in these calculations, consult a tax professional

CALL US TODAY FOR A FREE ESTIMATE
and start saving money with a clean, money-saving, long-lasting photovoltaic system for your business.
520-777-0511 or 800-292-2280