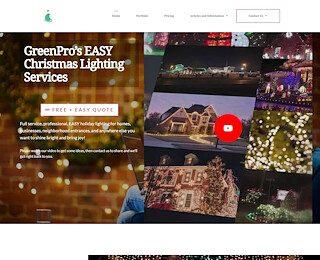 GreenPro Lighting Services provides affordable residential Christmas light installation in Tulsa. If you're worried about an accidental fall from a ladder but want to show your neighbors your enthusiasm for decorating this Christmas, make a call to our installation team for an affordable alternative to self-installation. No one beats our team for professionalism, affordability, or lighting options; in fact, your total satisfaction is our priority when you hire us to install your Christmas lights.
3 Ways We Can Help With Your Outdoor Holiday Decorating
1. You won't have to spend hours planning your Christmas light installation; simply make a phone call to GreenPro Lighting Services and we'll handle everything. Let us know a little bit about your lighting ideas and we'll help you plan for the perfect outdoor design- or choose from one of our packages; there's something for every budget.
If you typically start planning your lighting display weeks ahead of time, you'll have more time on your hands to complete other holiday projects when you hire GreenPro for Christmas lights installation in Tulsa. Request a free quote when you call 918-779-8982.
2. If you're like a lot of our customers at GreenPro Lighting Services, you probably own the same Christmas lights and decorations that have been in your family for many years. One of the greatest advantages of leasing this year's Christmas lights from GreenPro is that you'll have access to numerous design options. Change your holiday light theme every year with our affordable lease package and experience more diversity.
It's fun to keep a few mementos from past generations to remind your family how previous Christmas seasons were celebrated; however, too much nostalgia can require a lot of storage space. Get rid of old lights that have been in service for too long and contact our Tulsa Christmas lights and decoration installers for a fresh change of scenery.
3. During the holiday season, an average of 250 people visit the emergency room due to accidental falls off of ladders while hanging lights and decorations; all told, about 15,000 accident injuries each Christmas in the US alone. Stay safe this year and call us for Tulsa Christmas decoration services that will eliminate any chance of getting injured while hanging Christmas lights.
As one of the premier festive light decoration companies serving Tulsa, GreenPro has established a reputation throughout the community for excellence. Count on us this year for your residential Christmas light installation in Tulsa.
Start Planning Your Christmas Light Design Now
It's not too early to start thinking about your outdoor lights and decorations; At GreenPro Lighting Services, we get pretty busy by the time November comes around, so it's helpful to get in touch with us before the Christmas season arrives. Request a free quote or check out pricing on our website- we're available year round to help you plan for a beautiful outdoor design.
Review our photo portfolio online to see our work first-hand. We can provide tree wrapping, decorate neighborhood entrances, light up your business, create a festive walkway, or create a winter wonderland your whole community will come by and gaze at with awe.
Residential Christmas Light Installation Tulsa
Christmas Light Installation GreenPro Lighting Services
918-779-8982
7374 W 51st St
Tulsa
OK
74107
View Larger Map